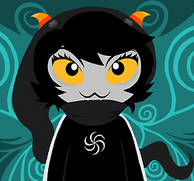 Ashlyn Pantra, also known by her Trollian handle awkwardLifeform [AL]is one of the post-scratch trolls and one of the original nine who intended to play the session. Her handle refers to her in...... it doesn't. Ash needs to think of a new one.
Her assigned symbol is the Japanese Kanji symbol for Panther.Her horns are short, sharp and resembles of cat claws. This along with her symbol is in reference to her panther lusus. 
Ashlyn follows the hemotyping trend, tinting her letters to her teal hue. Her quirk consists of changing all her e's into 3's.
Ashlyn was the second troll to enter the session , and co-leads alongside Ikarie Marada and Truaga Sniaff.
Section heading
Edit
Write the first section of your page here.
Section heading
Edit
Write the second section of your page here.
Ad blocker interference detected!
Wikia is a free-to-use site that makes money from advertising. We have a modified experience for viewers using ad blockers

Wikia is not accessible if you've made further modifications. Remove the custom ad blocker rule(s) and the page will load as expected.